The English Reformation
& The European Renaissance
[conference]
Saturday 28 March, 3:30 - 6:30pm
This event has been postponed due to Covid-19
An afternoon conference exploring the relationship between Reformation England and Renaissance Europe.
With Professors Peter Davidson (Oxford) and Gerard Kilroy (Academia Ignatium Krakow, U.C.L.)
The expulsion of Catholic scholars and the outlawing of Catholic education from Reformation England in the 1500s was intended to decisively detach England from the Catholic Faith. At the same time, the ongoing Renaissance on the continent was grounded in Europe's profoundly Catholic roots. To what extent did Henry VIII's reform succeed in severing English culture from Catholicism? And how far were the English removed from the influence of their Catholic European neighbours?
Professor Davidson will examine how the poetry of the famous Jesuit saint, Robert Southwell, reached and sustained not only its immediate and Catholic audience, but a rather more diverse section of English society.
Professor Kilroy will explore how English Catholicism was maintained and nurtured by exiles on the continent, and how a particular relationship between England and Europe continued as a result.
3:00pm Arrivals
3:30pm Prof. P. Davidson – Poetry and Fortress England: Southwell's Literary Offerings to a Divided Nation
4:30pm Prof. G. Kilroy – Cosmopolitan Jesuits and a Culture of Catholic Exile
5:30pm Q & A session with Profs. Davidson and Kilroy
6:00pm Optional seminar: Practical Problems in the Study of the British Catholic Diaspora
Tea & coffee will be served throughout the afternoon, with breaks following each session.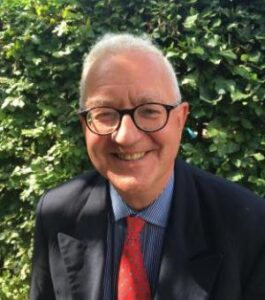 Peter Davidson is a Senior Research Fellow at Campion Hall, University of Oxford and a member of the English Faculty of Oxford University, formerly at Aberdeen, Warwick, Leiden. He was the general editor of the Oxford University Press Edition of the Complete Writings of St Robert Southwell. His writings include The Universal Baroque (MUP), The Last of the Light and The Idea of North (Reaktion), as well as editing early modern literature published by OUP. His general focus is on the exile and the culture of the British Catholic community after the Reformation.

Gerard Kilroy is Professor of English Literature at the Akademia Ignatianum Krakow, and author of Edmund Campion: Memory and Transcription (2005), editor of The Epigrams of Sir John Harington (2009), and author of Edmund Campion: A Scholarly Life (2015). He is currently editing Evelyn Waugh's life of Edmund Campion (1935) for a 43-volume edition of the Complete Works of Evelyn Waugh (OUP). In 2018, the Polish Embassy in London published a collection of his Poems. He has been attached to University College London for over ten years, first as Honorary Visiting Professor from 2009–2019, and now as Honorary Senior Research Fellow; he gives seminars there on editing from manuscripts, manuscript circulation and the smuggling of subversive books in early modern England. He has been Senior Research Fellow at Campion Hall, Oxford since 2015. He was a Visiting Professor at Masaryk University, Brno for three years. Much of his research was done in the Folger Shakespeare Library, Washington DC, where he has had four Fellowships, and in Marsh's Library, Dublin, where he had a Fellowship, and libraries in Oxford, London, Krakow, Warsaw, Prague, Munich, Dillingen and Rome.
Conference ticket: £29
Conference ticket, student discount: £24*
Student special offer: 5 tickets for £100*
Conference and overnight B&B: £65
Conference and overnight B&B, student discount: £60*
*Valid student ID will be required at the door
Please register below: