Saint Francis of Assisi (Feast Day: 4 October)
Getting to know the real Poverello 
Francis of Assisi remains one of the most beloved saints of all time. His love for the natural world, for his fellow human beings, and for the poor and suffering Christ have gained for him a wide appeal among Christians and non-Christians alike. The current Pope's selection of the regnal name "Francis" is one of the most obvious signs of the saint's exalted place in the popular imagination. This enduring broad fascination with the Poverello ("little poor one"), however, has led to some misunderstandings of the man and consequent misappropriations of his legacy. From his death on 4 October 1226 to the present, many different groups—across society, inside the Church, and even among Franciscans—have sought to claim Francis as a mouthpiece for diverse, and even competing, viewpoints.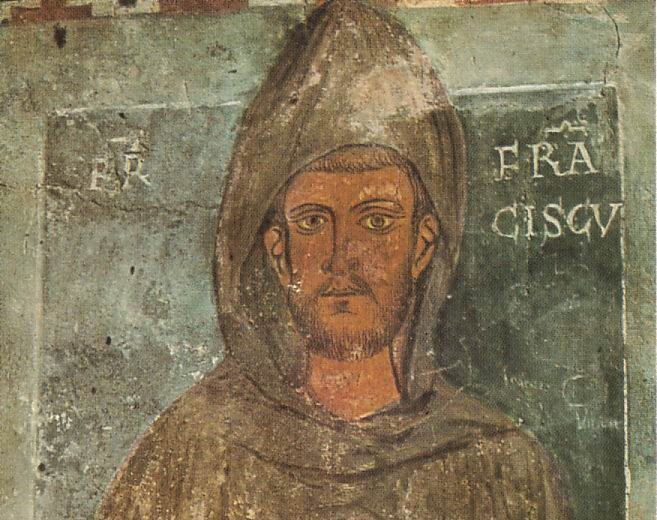 Fortunately, recent scholarship on the earliest documents of Francis's life have helped point the way toward a fresh portrait of the saint. A proper examination of these early sources depicts a man who is decidedly not, as Franco Zeffirelli's famous 1972 film "Brother Sun, Sister Moon" would have it, a carefree nature mystic opposed to the Church and churchmen of his time. Neither was he a man suddenly bestowed, as if from on high, with a clear and detailed vision of Church reform, a project which he resolutely pursued until his death. Nor is he the man of popular hagiographical traditions exercising power over animals (unfortunately the story of the "Wolf of Gubbio" does not describe an historical event). Neither is he a total pacifist in the mold of contemporary anti-war movements, nor the author of the beloved "Peace Prayer "which often bears his name ("Lord, make me an instrument of your peace…"). Nor is he a man who upheld total poverty as an abstract institutional ideal above all other concerns.
If these things popularly associated with Francis are taken away, what do we have left of this figure so deeply admired? The answer to this question is far more complex, far more fascinating, and arguably far more compelling than the man of the legendary accounts.
Ironically, one contemporary author who has contributed greatly to our understanding of early Franciscan sources is not a Franciscan friar but a priest of the Order of Preachers (i.e., the Dominicans). Fr Augustine Thompson OP's book Francis of Assisi: A New Biography (Cornell University Press, 2012) sifts through the earliest sources and eyewitness accounts from those who knew Francis, not to mention Francis's own oft-neglected letters, to show a portrait of the man who, in his simple desire to follow God as the least of his disciples, struggled with the burden of authority thrust upon him. Unlike Saint Dominic, who had begun his religious life as an educated canon regular, Francis (only ordained a deacon toward the end of his life) was not a skilled administrator. His numerous attempts to produce an acceptable Rule for his friars prove this fact, and the effects of Francis's managerial shortcomings were manifested in the bitter struggles among Franciscan factions which arose after his death. 
Despite all these things—or perhaps because of them—Francis remains a saintly example for all who, despite their faults and failings, strive to follow the will of God. As his own writings show, he was a man of the Church, deeply devoted to her ministers, confident in the power of the sacraments—especially the Eucharist. In his Letter to the Faithful and the Letter to Clerics, he admonishes each group, exhorting them to hold the Body and Blood of Christ with the highest reverence. He reminds the faithful in no uncertain terms the grave threat to their souls if they unworthily receive Holy Communion, while also telling priests who fail to use precious vessels and clean altar linens for the distribution and reservation of the Blessed Sacrament that they must render an account before Christ himself on Judgment Day. 
This Francis, burning with love for Christ present in the Eucharist, is the same Francis who received the stigmata—the wounds of Christ—upon his own body. He is not a man with power over animals nor an indignant opponent of bishops and popes but a servant profoundly devoted to the ministers and sacraments of the Church. Beyond the tranquil, romantic portraits and clean plaster statues on so many bird baths, Fr Augustine Thompson brings to light a very pious yet conflicted—and thus very human—saint worthy of our imitation.