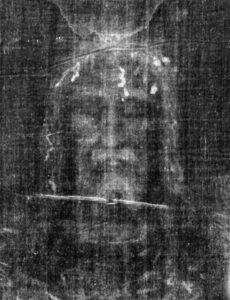 Originally called "The Shroud of Christ", it was owned by the House of Savoy, who moved it from Chambéry to Turin in the late 15th century. Devotion to the shroud spread across the world after the first photograph was taken of it 1898, with the negative returning a clear image of the face of Jesus.
Numerous scientific investigations into the Shroud have been unable to suggest a viable explanation for the production of the image, and evidence of its origins at the start of the first millenium remains otherwise unexplained. Today, the actual Shroud is only on public view on rare occasions, the last being in 2012.
Carbon-dating tests conducted in 2014, which seemed to date the Shroud to the 14th century, have been acknowledged to be invalid due to the failure to follow standard protocols.
It is for this reason that exhibition is so important, as it offers ordinary people that chance to catch a glimpse of the Shroud. This replica was constructed from the original photography undertaken by Barrie Schwortz. It unveils some of the mysteries and the research done on the Shroud, besides providing an in-depth historical and Scriptural engagement with the Passion undertaken by Our Lord.