Advent With St Anthony: Preparation
The first post in a series of blogs by Gabriel Stirling that will explore what lessons St Anthony of Egypt can teach us about the season of Advent.
'Therefore, you too must stand ready because the Son of Man is coming at an hour you do not expect' – St Matthew, 24:44
During Advent, we are reminded not only of the Nativity in Bethlehem, but also of Christ's Second Coming. This is a theme found throughout Sacred Scripture, as well as in the lives of the Saints. In particular, the life of the founder of monasticism, St Anthony of Egypt, offers us the chance to reflect on how we should prepare for the return of Our Lord.  
St Anthony was born in around 250 AD in Roman-ruled Egypt. A faithful believer from a young age, it was this devotion that made him a target for the Devil, who inflicted greater and greater torments on St Anthony. Not surrendering to the Evil One, he ventured into the tombs that inhabit the barren Egyptian landscape, to live a life dedicated to penance and solitude.
It was here in the barren wilderness that St Anthony entered into spiritual combat with the Devil. According to one account, he found himself subjected to the torments of demons who tried, but failed, to posess his body. The Devil tempted him with food and other material comforts, things that the hermit had surrendered.  But St Anthony was able to persevere in the face of these trials, strengthened through the grace of God. The demons eventually left him, defeated and demoralised. 
This retreat into the wilderness was not out of a desire for spiritual enlightenment or self-improvement. Instead, St Anthony saw it as a place of preparation before coming face to face with Christ. Speaking to his fellow monks, he said that that, by leading the contemplative life, they would be 'ever striving and looking forward to the day of Judgment'. For St Anthony, the end goal of this ascetic life was to find his soul ready to meet with God.
St Anthony reminds us that the true focus of any Christian life should be one of preparation. In finding a place of relative peace, we can call upon God to help us with whatever spiritual trials that we face. Admittedly, finding a wilderness to prepare in is difficult when confronted with the noise of modern life. But quiet spaces still do exist, be it in praying the Rosary at home, visiting the Blessed Sacrament or attending a weekday Mass in church. In these moments, we surrender ourselves to God and receive a foretaste of the glory of Heaven.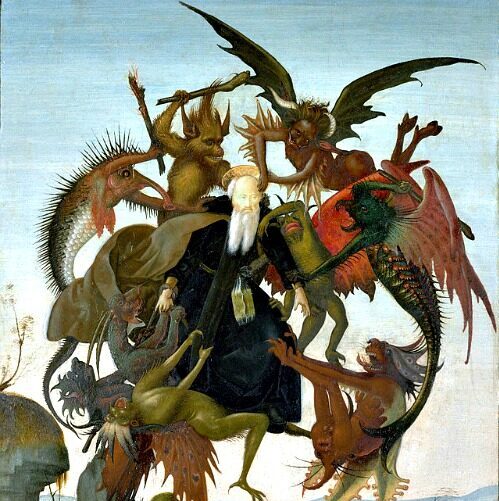 Advent offers us the chance to break the cycle of sin before the joyous festivities of Christmas. But perhaps more significantly, the life of St Anthony calls on us to prepare beyond Advent. Following his example, let us resolve to listen to God's call and prepare our soul for the Kingdom of Christ.
Source: Life of St Anthony, St Athanasius/New Advent